Gardening for Wellness Program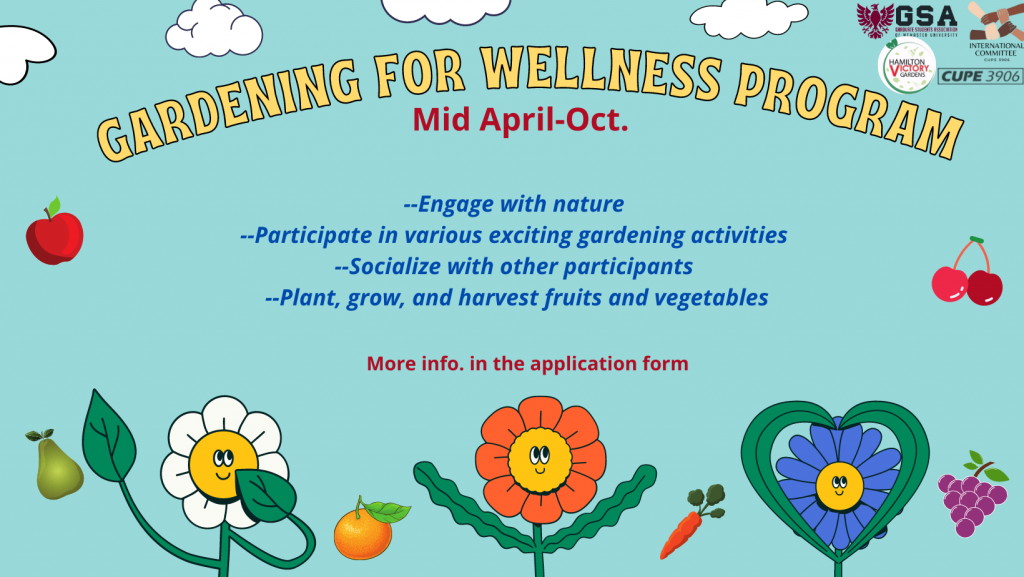 The GSA & CUPE 3906 are pleased to launch the "Gardening for Wellness" Program in partnership with Hamilton Victory Gardens to support the well-being of students.
Overview:
All students are welcome to apply to have an enjoyable time full of exciting gardening activities in any of the three sites of Hamilton Victory Gardens:
1) Venture Centre
2) St Helen's
3) Jones Road
Please visit the website for more information about the locations.
This program runs from mid-April to Oct. and provides students with the opportunity to:
–Engage with nature for a meditating time
–Participate in various exciting gardening activities (no prior experience required)
–Socialize with other students and community members (while following public health guidelines)
–Plant, grow, and harvest fruits and vegetables; students experiencing food insecurity may discuss with the coordinator about bringing home seasonal produce
How to register:
Interested students are welcome to fill out the application form here. There is a section in the application form asking you to upload a filled/signed waiver. Please find the waiver form here.
General guidelines:
1. Hamilton Victory Gardens will reach out to applicants regarding their application and next steps.
2. Acceptance into this program depends on submitting a complete application with all required information. Students will be based on a first-come, first-serve basis.
3. The GSA & CUPE 3906 do not provide shuttle buses to the garden sites. It is the responsibility of successful applicants provide their own transportation.
Questions? Please contact (volunteer@hamiltonvictorygardens.org) OR reach out to Sarah.