GSA Health & Dental​ Insurance Plan
Insurance Relationship
The medical cost in Canada is very expensive. Example: Semi-private ward in hospital: $260/day. The best way to handle it is to buy insurance.
As students, we don't need to negotiate with insurance companies directly. Since we're not familiar with insurance companies, insurance products, whether the price is reasonable and so on. Instead, the related organization or group has already prepared the corresponding insurance services in advance.
According to the following figure, GSA insurance involves three different organizations, namely Providers, Brokers, Student Groups.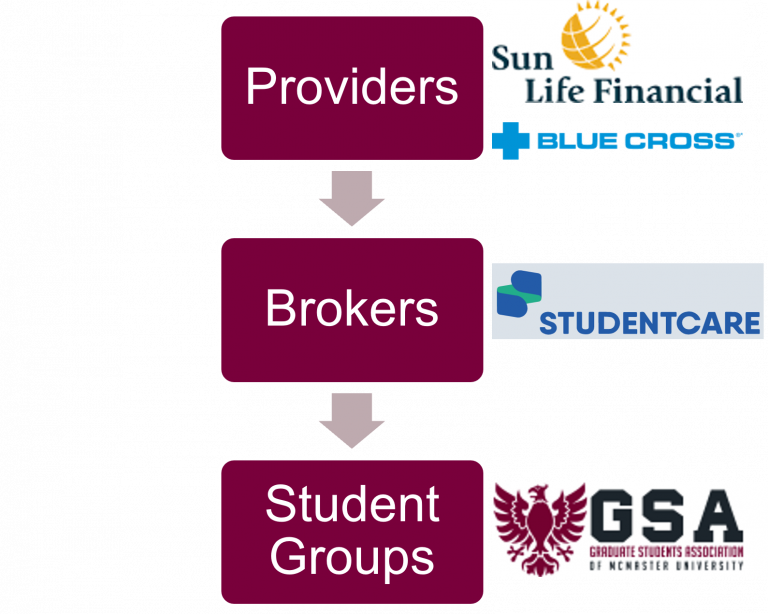 Providers: Providers are insurance companies. Many insurance companies offer a wide range of insurance products. The insurance companies associated with us are
Brokers: Brokers play a role as a bridge. They combine the corresponding insurance products of each insurance company and recommend them to different customer groups.
Customers don't have to know which insurance companies to go to when they reimburse medical cost. They just need to send the bill to the broker, and the broker will transfer them to the appropriate insurance company. The broker associated with us is
Student Groups: If only a few people buy the insurance, the cost of insurance will be very high. However, when a lot of people buy it together, everyone's price will be cheap. The insurance we buy is always associated with a group, i.e., graduate students.
Insurance List
Graduate students usually buy 2 insurances:
GSA Health Insurance Plan
GSA Dental Insurance Plan
The above 2 health insurances are so called "extended health". The official website of GSA Insurance Plans: http://studentcare.ca/rte/en/McMasterUniversity_Home
Cost of GSA members:

Cost of the family of GSA members: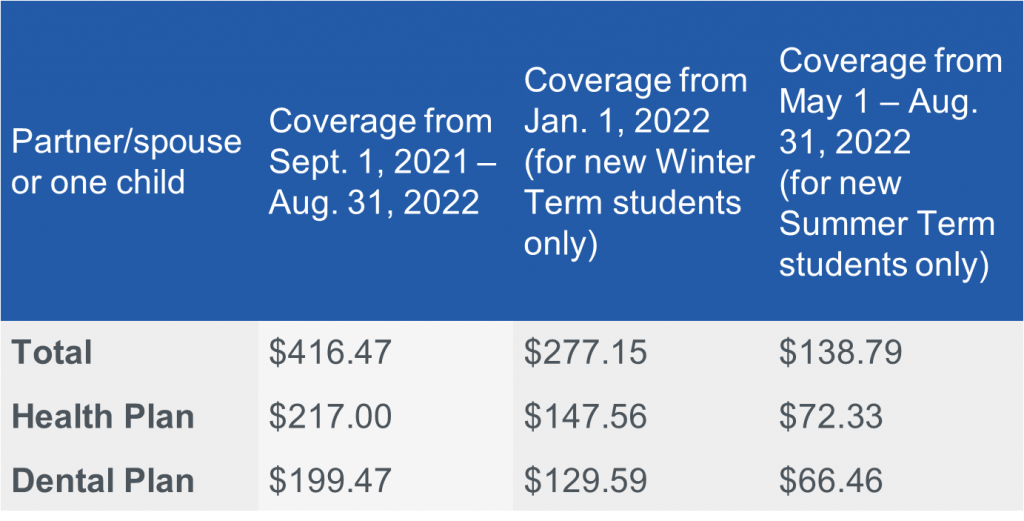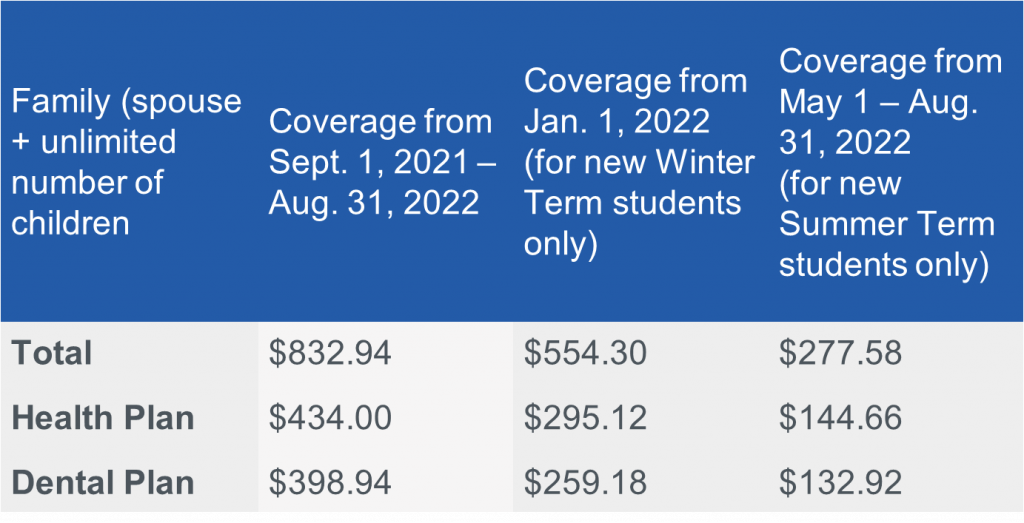 GSA Health Insurance Plan
GSA Health Insurance Plan provides coverage for those cost that UHIP cannot reimburse, such as prescription drugs. Therefore, those reimbursements will be handled by GSA Health Insurance Plan. Usually, the prescription drugs and UHIP non-reimbursed vaccines can be reimbursed 80% of the total cost by the GSA Health Insurance Plan.
Health benefit: http://studentcare.ca/rte/en/McMasterUniversity_Health_HealthCoverage
Prescription Drugs and Vaccinations: Up to 80% coverage, $3,000 maximum per policy year
Accidents & Emergencies: Ambulance service, travel accident, dental accident, and accidental death & dismemberment
Health Practitioners: Physiotherapists, chiropractors, massage therapists, and more
Medical Equipment: Crutches, wheelchair rental, hospital-type bed, and more
Diagnostic Services: Lab tests, x-rays, and ultrasounds used to diagnose an illness and performed in a commercial lab
Vision: http://studentcare.ca/rte/en/McMasterUniversity_Vision_VisionCoverage
Eye Exam: $50 per policy year
Independent Specialists: 30% off prescription eyeglasses, up to $75
Clearly: 10% off contact lenses, 25% off eyeglass frames
LASIK MD: Save up to $200 on laser vision correction
Travel: This is very important for those students who publish papers during graduate studies and need to go to other countries to attend international conferences. For more information, see http://studentcare.ca/rte/en/McMasterUniversity_Travel_TravelCoverage
Note: it does not cover the medical cost in the home country of international students.
Vacations: 120 days per trip and up to $5,000,000 per lifetime
Trip Interruption: $5,000 for trip interruption
Exchange & Internship Students: Travel health coverage for the duration of an academic exchange or internship, plus for the first 120 days of the trip and for 120 days after the end of the exchange or internship
Trip Cancellation: $1,500 for trip cancellation
GSA Dental Insurance Plan
GSA Dental Insurance Plan offers various dental coverages, including teeth cleaning, repair and other services. Your Plan will cover at least 70% of your dental costs.
Webpage: http://studentcare.ca/View.aspx?locale=en&uid=McMasterUniversity_Dental_Test2&random=538&
Benefits:
Dental Coverage: $750 per policy year for dental visits
Dental Accident: Repair/replacement of natural teeth damaged through an external accidental blow to the mouth
Studentcare Dental Network: Studentcare Dental Network members offer 20% to 30% off dental services
Empower Me
Empower Me (Student Assistance) – Mental Health and Wellness Support
Webpage: http://studentcare.ca/rte/en/McMasterUniversity_EmpowerMe_EmpowerMe
Graduate students at McMaster University have access to mental health and wellness service through Empower Me. Empower Me has a number of professionals with various domains of expertise, including psychology, psychotherapy, social work, nutrition, etc. You can access services in person or via telephone or videoconference. Empower Me is a confidential support service available 24/7, 365 days a year.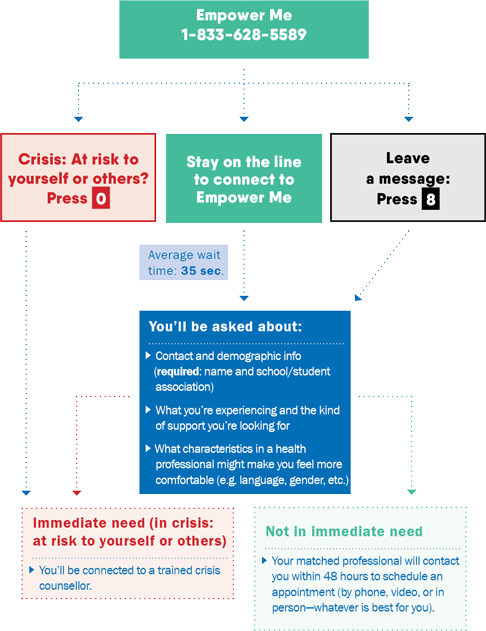 Enroll & Opt-out
Enroll
All graduate students must buy insurances, and the university will automatically charge relative fees at the beginning of the academic year. The specific insurances graduate students need to buy are as follows:
Graduate students without TA or RA in lieu:

UHIP
GSA Health Insurance Plan
GSA Dental Insurance Plan
Student Assistance

Graduate students with TA or RA in lieu

UHIP
GSA Health Insurance Plan
CUPE Unit 1 Dental Plan
Student Assistance

Visiting student

UHIP Premium
GSA Health Insurance Plan

Divinity college student

UHIP
GSA Health Insurance Plan
Note:
Opt-out
The insurances are mandatory for all students. You can opt-out only if you have already purchased the same insurance. Common scenarios are as follows:
If you are a TA or RA in lieu, you are a member of the CUPE 3906. Members in CUPE have CUPE Unit 1 Dental Plan. You will automatically opt-out GSA Dental Insurance Plan.
If you're a part-time graduate students, you have a full-time job off-campus. Usually, large companies buy insurances for their employees, and you don't need to buy GSA Health & Dental insurance. The university will charge those fees anyway, and students need to contact macgsa@mcmaster.ca to opt-out. Please refer to http://studentcare.ca/rte/en/McMasterUniversity_ChangeofCoverage_OptOuts.
If you can join the similar health insurances with your family members, you also can opt-out like part-time students.
Here is the guide about how to prepare the documents for opting-out: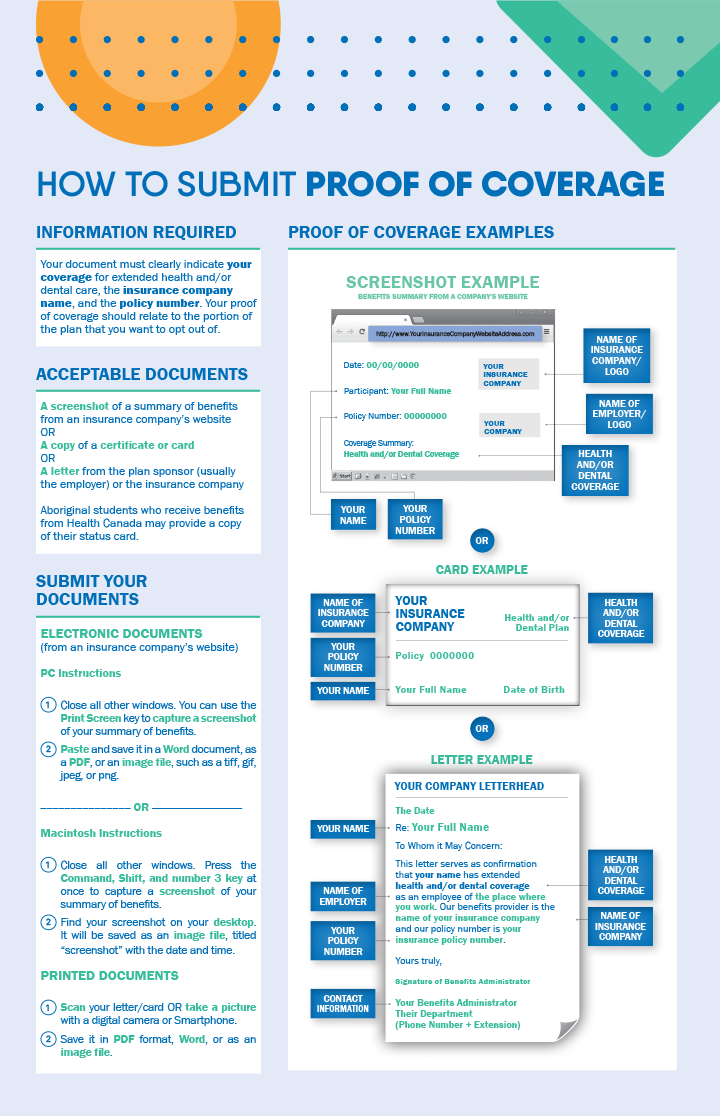 Change-of-Coverage Period
The Change-of-Coverage Period is the period at the beginning of the term when you can either opt out or enrol your spouse and/or dependent children in the GSA Health/Dental Insurance Plan. Period for different situations:
If you start school in September, the period is from Sept. 7 – 30, 2021.
If you're a new student starting in January, you can opt out or enrol your spouse and/or dependent children between Jan. 6 – 31, 2022.
New students registering in May can enrol themselves, their spouse and/or dependent children between May 1 – 31, 2022.
Attention: Graduate students are required to ensure their mailing addresses are correct on the MOSAIC (https://mosaic.mcmaster.ca/) for Studentcare to mail cheques to them. For any lost or misplaced cheque, Studentcare will issue another cheque less the $25 administration fee. Besides, the request to opt out any insurance plan must be made in the current policy year and Studentcare will refund the relative fee by a cheque to the student once it is approved. Any late request to reissue lost or misplaced cheques will be rejected, as accounts will be reconciled and audited after each policy year.
See a Doctor
University clinics
Campus dentist
Campus optical
Off-campus Dental, Vision and so on
Although the above 2 clinics are on campus and convenient, they are not in "Studentcare network". You cannot get enough reimbursement. For example, you can only reimburse 70% of the dental cost in Campus dentist.
Find clinics in Studentcare network:
Go to Studentcare website for GSA: https://studentcare.ca/rte/en/McMasterUniversity_Home
Select "Dental" or "Vision" or other services from the drop-down list under the heading "STUDENTCARE NETWORKS Find a Professional" on the upper right corner of the page.
The dental clinic designated by the GSA Dental Insurance Plan is called "Studentcare Dental Network member".
For general dental clinics, the GSA Dental Insurance Plan can reimburse 70% of the total cost. However, for "Studentcare Dental Network member", the cost can be reimbursed for extra 20% to 30%. Thus, it can reimburse 90% to 100% of the total cost.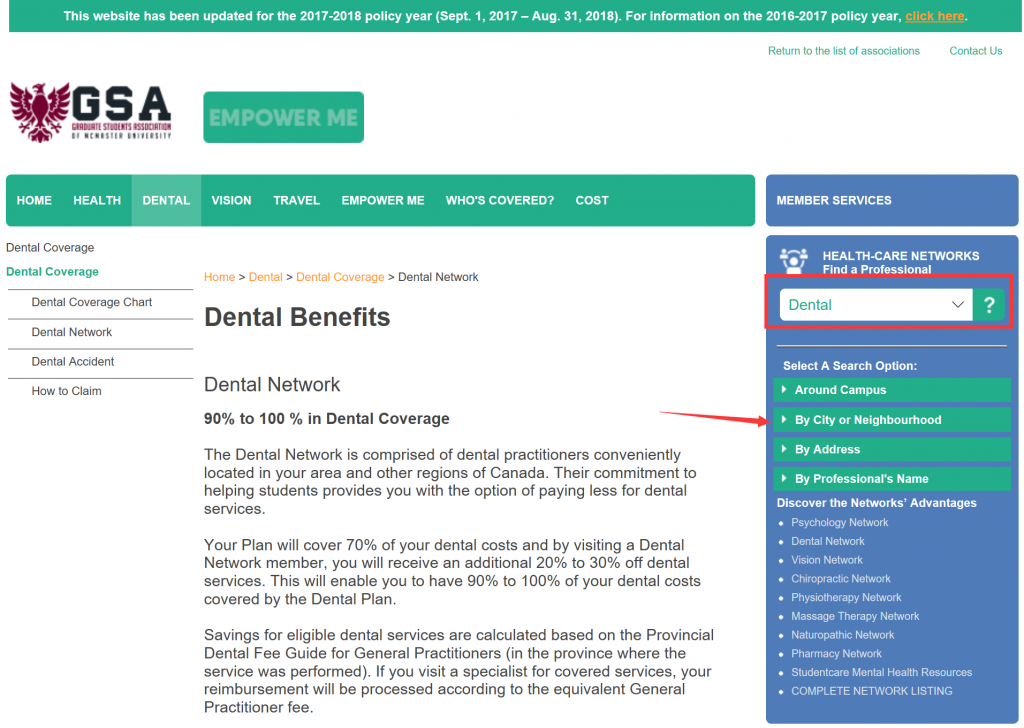 Prescription Drugs
McMaster University Centre Pharmasave
Official website: https://universitypharmacy.ca/mcmaster/
Location: Student Center Room 109B.
If you need to buy prescription drugs as being told by a doctor in the student wellness center (SWC), you can go to this place as your first choice. The reason is that you can directly reimburse the cost while visiting. This will save the process of reimbursement by yourself.
Shoppers Drug Mart: https://www1.shoppersdrugmart.ca/en/health-and-pharmacy/pharmacy-services. As you can see from the name of the store, it is more than just a supermarket, but also a regular pharmacy.
Fortinos: https://www.fortinos.ca/pharmacy
Rexall: https://www.rexall.ca/pharmacy. Rexall is a pharmacy and retails some of the daily necessities. It is also in Studentcare Pharmacy Network, where you can get the following benifits: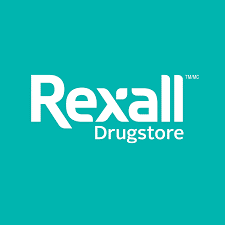 Other pharmacy locations: https://pharmasave.com/. Mobile app " eCare@Pharmasave ":
Reimbursement
All insurance services are provided by Sunlife, except that "Travel" in GSA Health Insurance Plan is provided by Blue Cross. Broker is the Studentcare. There are 3 methods for reimbursement:
Method 1: If a pharmacy accepts pay direct card (e.g. McMaster University Centre Pharmasave, Rexall, etc.), you can avoid the reimbursement process by showing that card. You only need to pay the part of the cost that cannot be reimbursed (usually 20%). Pay direct card can be found at
Method 2: Take a picture of all the documents (prescriptions, invoice and so on) by using "Studentcare" App and fill in the reimbursement information.
Method 3: Fill in the claim form and mail the relevant documents to the address on the form: http://studentcare.ca/rte/en/McMasterUniversity_Claims_HowtoClaim.
Need more help?
Studentcare website is a good place to start
Call Member Services at 1 866 358 4434
Member services is unique to our GSA plan
Please do not call SunLife (our insurance provider) as they will not know the specifics of our plan
Visit Ashley or Mona at the GSA Main Office (Mon-Thurs 10am - 1pm)
Send your questions to macgsa@mcmaster.ca