The McMaster Graduate Students Association (GSA) recognizes the need to support the McMaster graduate student community at large in pursuing extra-curricular endeavors. In pursuit of this goal, the GSA is happy to introduce the McMaster Graduate Student Initiative Fund (GIF), an annual allocation of funding intended to assist individual students and GSA recognized groups/organizations to develop innovative projects or initiatives. Beginning in May 2023, students and GSA clubs/organizations will be able to submit GIF proposals to access this new funding stream. A GIF proposal addresses a campus, grad student, or community need or opportunity. GIF funding is not intended to support business ventures or academic research projects. 
Below is a summary of the GIF Guidelines: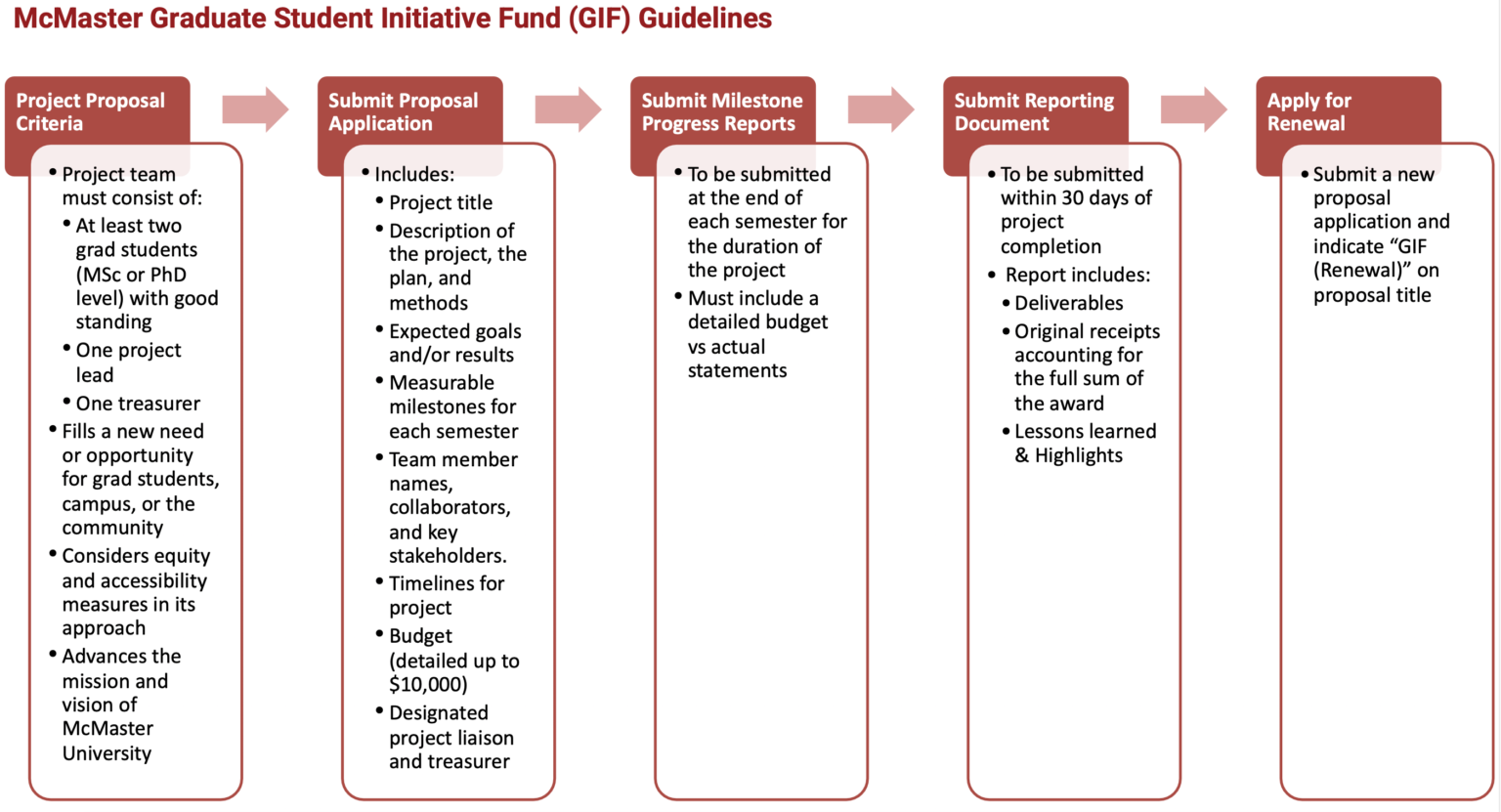 Applications are reviewed and funds distributed on the impact and quality of the proposal.
The proposal must contain key milestones which will be submitted to the GSA as semesterly progress reports for the duration project. A final outcome report, including a budget versus actual statement, will be due within the anniversary of the project.
Online application list of prompts:
Project title, a tagline (description about your project in one sentence), and a project image.
Description of the project, the plan, and methods of how to accomplish the project.
Expected goals and/or results of the project.
Measurable milestones for each semester, including budget breakdown
Project team member names, collaborators, and key stakeholders.
Timelines (including planning, milestones, and key events).
Budget (detailed up to $10,000)
Designated project liaison (point-of-contact between your team and the GSA) and a treasurer.
Adjudicating GIF proposals
Proposals will be reviewed by the McMaster GSA. If your project is deemed eligible for GSA funding, then the GSA will invite you to our upcoming Board meeting to present your idea in a 5-minute pitch. The Board may then provide feedback on the proposal and invite applicants to re-submit, or they may make a final decision at this point. Interviewees will be notified within a month after the application as to whether their project is funded.
The funding allocations will be available based on the financial fiscal year, June 1st to May 31st . If all funds have been allocated for the fiscal cycle, the application will need to be resubmitted for re-evaluation in subsequent fiscal year. Subject to availability based on funding in the GSA budget.
Tips for your budget submission:
Propose a realistic budget
Proposal must contain achievable semesterly project milestones with detailed demonstration of fund allocation.

Provide a general itemization of anticipated costs divided by the quarterly deliverables in the project proposal. While it does not have to be exact, your budget should demonstrate an adequate degree of preparation for the GSA Board.
Figures can be approximated and include a range. For example, if your project requires renting space, and you haven't chosen a venue and are unsure of the costs, research a few potential venues to provide an estimate. Your budget submission can include a value range (I.e., $300-800) in such instances since the location and exact cost is yet to be determined.
Include 10-15% contingency line, if possible. There may be unexpected expenses that come up!
Who is eligible for a GIF grant?
Master's or PhD students registered and in good standing at McMaster for the entire duration of their project cycle.
Renewals
To apply for a renewal, submit a new proposal and indicate in your title: 'GIF (Renewal)'. Please note that your Outcome Report, including milestone progress reports, from the first year must be submitted prior for reference during your renewal assessment.
Careful review of the Guidelines, Criteria, and Exclusions for GIF should be completed prior to application.
Guidelines
What is a GIF project?
Something that does not already exist.
An original idea – fills a demonstrated need.
Includes team members who identify as part of the community it engages.
Driven by two or more graduate students
Primarily of benefit to McMaster graduate students.
Of demonstrable value and/or of interest to the McMaster and/or Hamilton community.
Project must be locally based Inspired by clear vision and leadership.
A passion project for those involved.
Accessible and open to all McMaster graduate students.
A GIF project is not:
Income for individual graduate students;
Initiated by a department, staff, faculty, or professor;
A way to fund an already existing group, club, seminar, conference, speaker's series, or other activity that is already happening or has happened before;
Academic research;
A business venture.
Guidelines
Each GIF project will have up to 12 months to deliver one or a series of activities;
The maximum sponsorship awarded to any one project is up to the discretion of the GSA.
Awardees are required to submit milestone reports with detailed budget versus actual statement, due to the GSA at the end of each semester for the duration of the project.
All funds are fully accountable. Awardees are required to submit original receipts accounting for the full sum of the award within 30 days of the project's completion.
The project team must consist of a minimum of two graduate students, a project liaison/lead, and a treasurer.
A team member in the role of treasurer must remain enrolled as a student for the entire duration of the project.
Students should have the support of their academic supervisor before undertaking a GIF-funded project.
Events must adhere to all McMaster Policy Guidelines, including the Discretionary Event Policy, Student/Employee Vaccination Policy, and Visitor/Volunteer Policy.
To ensure fair distribution of funds, if an applicant (student or student group) applies more than twice within a financial fiscal year (May-June), priority will be given to applicants with a new application.
The project must adhere to the McMaster code of Ethics and Professional Conduct.
Criteria
GIFs will be evaluated on the basis of their individual merits. GIF can approve proposals that best meet a combination of the following elements:
Unique and/or novel in nature (for example, proposals that request funds for graduate student conferences will not be accepted);
Creates a new initiative to enhance the experience of a given community/communities;
Includes collaboration, particularly across academic disciplines or with off-campus partners beyond the university's traditional boundaries;
Considers its governance model and models of community engagement;
Considers equity and accessibility measures in its approach;
Advances the mission and vision of McMaster University.
Exclusions
Funding will not be provided for
Travel or academic conference costs;
Forms of personal income;
Pilot projects;
Direct charity donations;
Costs of staff/employment, grad dinners, formals, club nights, or catering for club meetings;
Note #1: The GSA reserves the right to disqualify projects that we deem to be ineligible for this competition.
Note #2: The GSA reserves the right to award an amount lower than the amount requested to applicant groups.
Note #3: The recipient must return any unused portion of the grant to the GSA.
Reporting
Awardees are required to submit their outcome report, including budget versus actual statement, within 30 days of project completion.
Download your GSA GIF Outcome Report template here. It includes instructions on how to submit your report.
Your report will be public.
Please note:
Funds are not guaranteed – the amount available may be exhausted at any time before the end of the academic year.
Ideas
Composting initiative on campus
Emergency Tech loan
Reduce plastic waste in laboratories
Sources: McMaster MSU Student Life Initiative Fund: https://studentaffairs.mcmaster.ca/students/undergraduate-student-initiatives-fund/
Sources: McMaster School of Graduate Studies SPICES fund: https://gs.mcmaster.ca/current-students/resources/spices/
Note: SPICES is currently not offered anymore due to funding restrictions.