International-Domestic Peer Support Program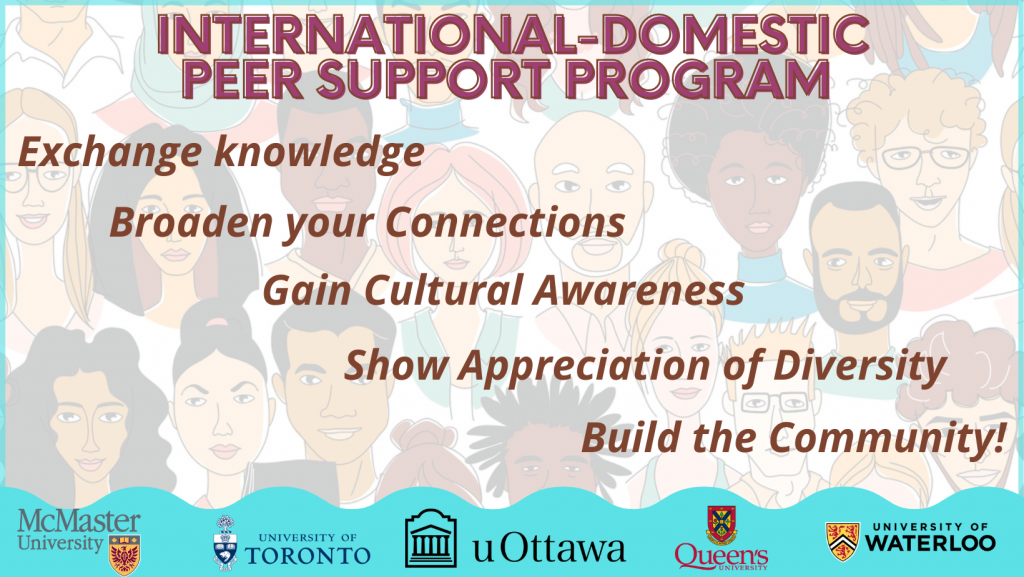 The GSA is pleased to launch the International-Domestic Peer Support Program in partnership with CUPE 3906 and various organizations at the UofT, University of Waterloo, uOttawa and Queen's University. The program is also supported by different associations at McMaster, including the IGSA.
Overview: The International-Domestic Peer Support Program provides an organized cross-institutional network to foster positive, friendly connections between international and domestic students and fellows, by encouraging community-building through knowledge and experience sharing related to topics such as academic studies and training, career paths, professional development, and life in Canada.
Structure: The program runs over a 5-month period (May-September). Participants are paired with a peer-supporter based on their requested level of study, institution, cultural learning opportunities, and individual support. Matches are always optimized to meet applicants' first preferences, however, this is not guaranteed as it largely depends on the applicant pool.
Criteria for participation: Participants can be an international OR domestic + undergraduate student, OR graduate student, OR postdoctoral fellow. Participants can be from any faculty and/or program from an institution that is affiliated with the program. Participants can request a partnership with a peer at their own institution or another affiliate institution that's listed on the application form.
Mission: To build a blended cross-institutional community which embraces diversity in order to cultivate an inclusive space for knowledge and experience sharing among academic peers. Partnerships between international and domestic peers are built with the intent to foster belonging and a sense of community.
Commitment and Events:
1. Participants must attend in a minimum of four (4) mutual peer support meetings (online, and/or in- person) during the 5-month program.
2. Participants must attend the 1-hour orientation session organized by the program co-ordinators in May.
3. Participants must attend the Ceremony of multi-culturalism at the end of the program (Fall term 2021, specific date TBD)
Please fill out the application here. Deadline is April 14th.
Questions? Please contact Sarah.