"Places to Fall in Love with" Contest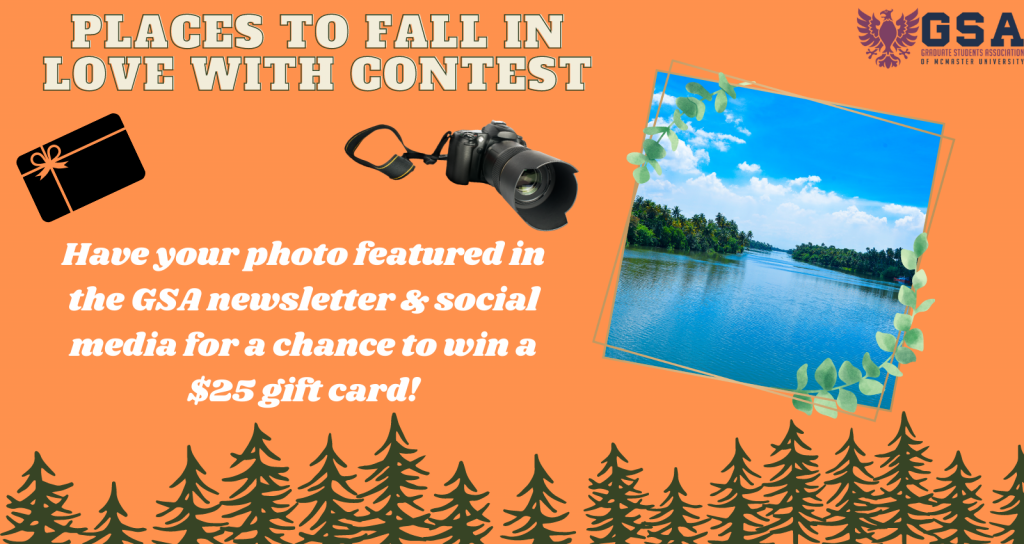 The GSA is delighted to launch the "Place to Fall in Love with" initiative to introduce the McMaster community to various breathtaking places from across the globe where our multi-cultural graduate students came from or live(d). This will show the beautiful aspects of our diversity and help build a stronger McMaster community!
Overview
All McMaster grad students are welcome to send us a photo and a brief description of a place they love or that has a special meaning for them. The photos will be shared with the entire McMaster graduate community in our weekly GSA emails and social media. At the end of every month, each featured photo will be entered into a contest on the weekly GSA email and social media that will last for three days. The photo with the most votes will win a $25 gift card. Don't forget to vote for your favourite photos and share them with your friends!"
General guidelines:
1. New photo submissions are due on Wednesdays before 11:59 PM in order to be selected for the Friday weekly email.
2. The photo submissions should include three parts: 1) Photo; 2) Short Description; and3) Google Maps Street View/Location.
3. The photo submissions will be shared in the GSA email and social media weekly on a "first come, first served basis".
4. Preferences will be given to students who have not previously had a featured photo. More details in the sign-up form!
Sign-up form here (https://forms.office.com/r/41UED55ang)
Questions? Please contact the GSA VP-External at (gsavpext@mcmaster.ca)