Update on GSA and HSR fees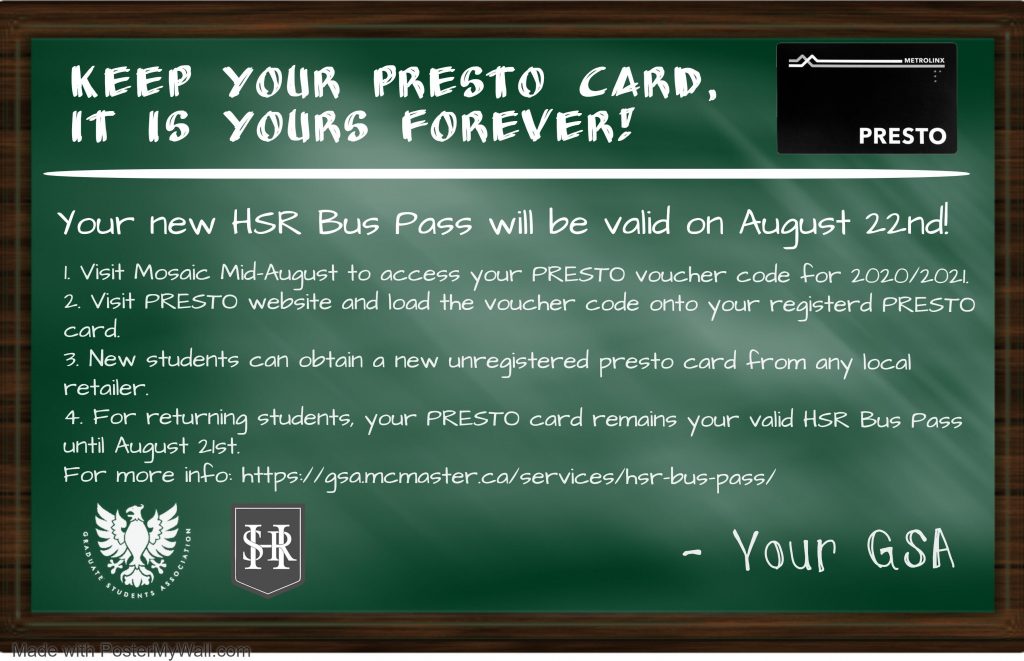 As some of you might have learnt, the GSA has been advocating for graduate students in regard to our HSR fees. We heard your concerns about transportation and COVID-19, along with a concern for a fare that is reflective of these times.
We are happy to report that these negotiations have come to an end, and a fee for the bus pass for 2020/2021 academic year has been REDUCED. However, this does not mean a reduction in your coverage. Graduate students who are eligible for the HSR UPASS will have it for the entire academic year; commencing August 22nd 2020-August 21st 2021.
Through focused efforts, we gained your responses via email, survey, social media, etc., and that having the pass for the Fall term, though it is online, was still important to our graduate student community.
Instead of the originally assessed fee of $273.68, a new fee of $239.65 will be charged – a savings of $34.04. This also means that our students will not experience an interruption in service during this critical time.
We are also continuing to work with the HSR, so students are refunded for the reduction of service that occurred between the months of April to June 2020—the period for which the HSR did not charge bus riders due the COVID-19 pandemic. We hope these savings will amount to more than $60 total.
For more info, please visit https://gsa.mcmaster.ca/services/hsr-bus-pass/
In being cognizant of the impact of the COVID-19 pandemic, the GSA has made a conscious effort to reduce fees for our students. Internally, we reduced the GSA Capital Building fee to zero dollars and also ensured there was no increase to our Health and Dental premium.
The single operating fee of the GSA will be $49.97 and will be divided into terms ($16.65 per term). Although this looks different than last year's multiple fee model, which corresponded to the Provincial government's Student Choice Initiative (SCI) categories, we are confident that the decision is more aligned with the needs of our constituents.  The $16.65 per term fee represents the plethora of services the GSA will offer this 2020-2021 Academic year.  
For this fee, students will continue to have access to social events (faculty, departmental, and community wide), workshops and other professional development opportunities, clubs, access to a comprehensive Health and Dental Plan, and an ENHANCED Student Assistance Program (SAP) that can be accessed worldwide; to mention a few.
Further information on both the GSA and HSR fees will provided in a separate post.