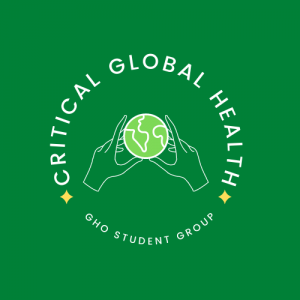 Aim
Critical Global Health (CGH) is a working group composed of students from the McMaster Global Health graduate programs, at both the MSc and Ph.D. levels. While the founding members are Global Health students, we invite all students to join.
We provide spaces for students to discuss current discourses that are unfolding within the field of Global Health, specifically contemporary issues, such as bioethics, the longstanding consequences of colonialism, and epistemic violence within research.
This club affords the collaboration of students across McMaster University and a space for critical iterative conversation, learning, professional development, and praxis of Global Health theories within and beyond the McMaster community. We are a working group centred on the principles of equity, social justice, and transformative change surrounding the issues within the field of Global Health.
We provide the following four avenues for engagement:
Activism
Education
Professional Development
Scholarship
History
Formed in Fall 2021 through a WhatsApp group chat.
Structure
President: Zoha Salam
Vice-President: Patricia Ogba
Treasurer & Finance: Lulwama Mulalu
Record Keeper: Erika Campbell
General Services and Events
Advocacy, professional development (e.g., workshops for grant writing, manuscript writing, and peer-reviewing), speaker series/panels, critical reading club, community events, networking, and social support. 
Zoha Salam – Strategic Planning and Accountability Chair

Oversees the development of the CGH working group and is responsible for curating an environment which fosters integrity and equity.  

Hanna Chidwick – Program and Events Chair

Facilitates collaboration and connection among programs/events of the club including the critical reading group and social support initiatives.

Fatima Kijera – Knowledge Innovations Chair

Advocates for innovative strategies to re-envision teaching and learning in Global health, while ensuring equitable and inclusive practise.

Roxana Rabet- Communications and Engagement Chair

Acts as a student liaison when meeting with other groups/clubs and develops promotional materials related to the club.

Erika Campbell – Issues and Advocacy Chair

Supports activities related to organizing, activism, and advocacy. Collaborates with other groups (at McMaster and in the community) in building capacity.