Hamilton Street Railway (HSR) Bus Pass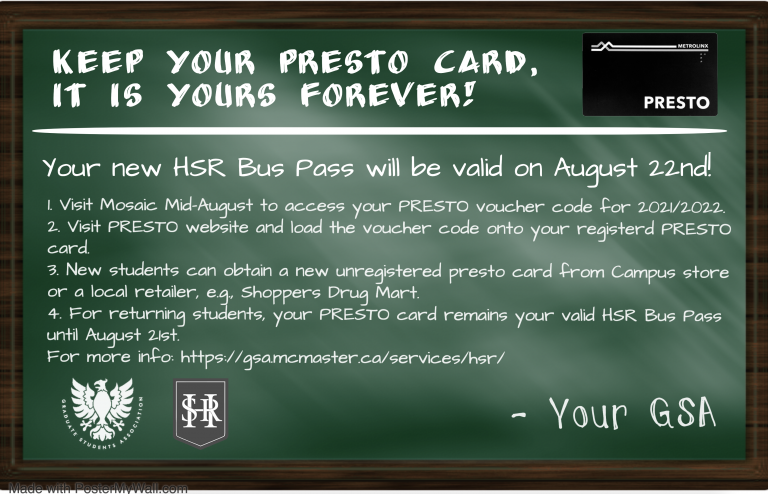 Returning Students
Returning students are reminded to keep the PRESTO card that was issued by the Campus Store, onto which the GSA/HSR bus pass is loaded. Students will keep using the same card in future years.
Starting August 16th 2021, a voucher code will appear in Mosaic, which will be used by students to upload the next year's bus pass to the existing card.
To access the voucher code on Mosaic click on the  HSR Bus Pass tile containing your voucher code. Follow the instructions to load your HSR Bus Pass onto your card. Your PRESTO card must be registered to redeem the voucher.
The voucher load may take up to 24 hours to be processed. As there is no grace period this year, students will have to load their vouchers, at least 24 hours, prior to August 22 in order have a valid pass starting August 22. You must then tap onto an HSR bus within 45 days for your voucher to function.  Failure to tap your card within 45 days will discontinue the HSR Bus Pass functionality and you will need to contact PRESTO to have your voucher reinstated.
Your 2020-2021 Bus Pass is still valid until August 21st, 2021, and you may continue to use it even after loading your 2021-2022 Bus Pass onto your card.
New Students
New students can purchase a new unregistered presto card from Campus Store or Shoppers Drug Mart, please refer to  https://www.prestocard.ca/en/about/get-a-presto-card.
RESTRICTIONS OF NEW STUDENTS 
Students cannot start using their 2021/2022 Bus Pass/Presto cards until August 22nd, 2021.  Use prior to this date will cause PRESTO "My Account" to be in a negative balance, and not work correctly.
What students are NOT ELIGIBLE for the HSR bus pass?
Part-Time Graduate Studies (Including Visiting students)
MBA (all)
Divinity (all)